Rumba Room Live brings you Energia Fridays
Friday, Nov 9, 2018 @ 9:00pm
Event Description
Muzik Junkies will be playing the hottest Latin rythyms at Rumba Room Live. Join us this Friday at the hottest OC nightclub where we play the best in Reggaeton, Hip Hop, Top 40 and other Dance Hits.
Dance, mingle and try our signature cocktails at #RumbaRoomLive
VIP Bottle Service Reservations please call (657) 999-7900.
Free admission before 10:00 pm with approved guest list request only.
Admission $20/pp
**Admission charges may change without notice**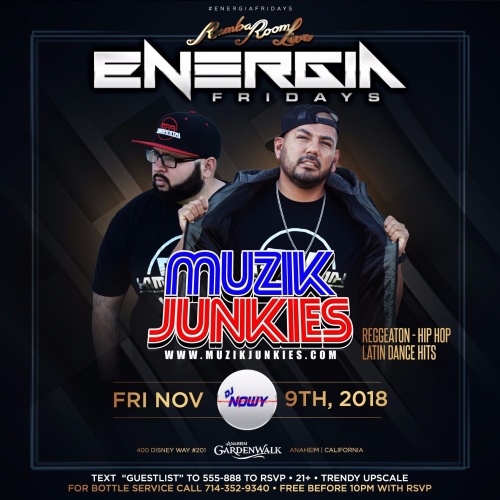 Rumba Room Live
400 West Disney Way 201Anaheim, CA 92802
Get Directions